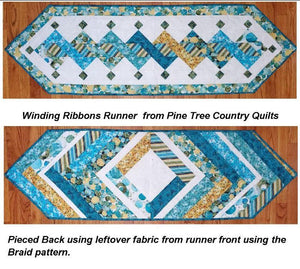 Winding Ribbons Quilt Table Runner Kit finished size 19"x63.5" pattern from Pine Tree Country Quilts
Winding Ribbons Table Runner - Mediterrania Collection
The hostess gift or elevate your own dining space with the "Winding Ribbons" table runner by Pine Tree Country Quilts. Measuring 19" x 63-1/2", this elegant runner features the Mediterrania collection by Joycelyn Benford for QT fabrics, adding coastal charm to your decor.
Enhance your home with "Winding Ribbons" today. Perfect for quilters of all levels. Order now for timeless style.
Shop Now to adorn your table with "Winding Ribbons"!