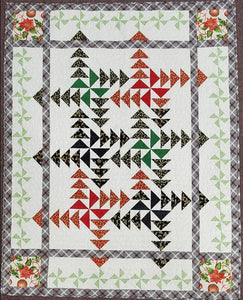 Little Deue Goose Quilt Kit finished size 46"x58" pattern by Jackie Robinson from Animas Quilts Publ
Little Deuce Goose Lap Quilt - Botanical Season Collection
Description: Not all geese fly south for the winter! Celebrate the season with "Little Deuce Goose," a charming quilt designed by Jackie Robinson from Animas Quilts Publishing. It showcases the delightful Botanical Season fabric collection from Benartex Fabrics.
Details: Measuring a cozy 46" x 58", this lap quilt is perfect for adding warmth and style to your winter days.
Limited Availability: Hurry, as we have limited kits available for just $89.99. Don't miss your chance to create a whimsical winter quilt with "Little Deuce Goose."
Shop Now to embrace the season with the "Little Deuce Goose" lap quilt!