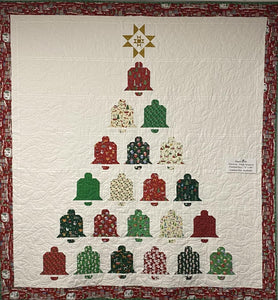 Jingle Bells Quilt Kit finished size 74" x 80" pattern by Wendy Sheppard
🔔 Jingle Bells Quilt Kit - Stitch Your Christmas Wonderland! 🔔
Step into a world of holiday enchantment and embark on a quilting journey that captures the magic of Christmas. Introducing the Jingle Bells Quilt Kit – a holiday delight that empowers you to create a heartwarming masterpiece, warming your home with the spirit of the season.
Kit Type: Quilt
Finished Size: 74" x 80"
Pattern Designer: Wendy Sheppard - Annie's Quilt Pattern Book Merry Quilted Christmas
Focal Fabric Collection: Christmas Miniature from P & B Textiles
Step into the enchanting world of holiday quilting with our Jingle Bells Quilt Kit, and create a masterpiece that will warm your heart and home. The Focal fabric is Christmas Miniature from P&B Textiles, a fabric collection that captures the essence of Christmas with its whimsical designs and vibrant colors. Within this kit, you'll discover all of the fabrics you need for the quilt top and binding.
Included in Kit:
The quilt pattern
Fabric for quilt top and binding
Additional Items Needed: While the kit equips you with fabric essentials for the quilt top, here's what you'll need to add to your creative toolkit:
Your sewing machine
The pattern book
Basic sewing and quilting supplies
5 yards of backing fabric
Batting that fills your creation in comfort and warmth
Your finished quilt will bring the magic of the season to your home. Capture the spirit of Christmas in fabric form – order your Merry Quilted Christmas Kit today and let your stitches weave a holiday wonderland! 🧵🎄